KOK Play Review – Legit Token With 200% Return Or Massive Scam?
Hello my friends and welcome to my KOK Play Review! You might be here today because someone referred you to this company. Maybe you just found them online and want to find out if they are legit or not. Today we will be looking into it. I am not an affiliate for this company or associated with them in any way. But rather giving you my unbiased review. This way you can make your best informed decision. So make sure to stick around 'till the end to find out the truth behind this company.
KOK Play Review – What Is It?
The meaning of "KOK" is Keystone of Opportunity And Knowledge. Not sure how they came out with this name, but the pronunciation sound just like it's spelled. Maybe because the people behind the company don't know what that translates into English…. Or maybe they know, who knows… Anyway, let's get back to business. First thing I noticed is that we don't know who runs the company. They don't mention any names on their website. They did registered their domain "kok-play.io" in August 2019. Then on August 21st, 2021 they updated it.
I was able to look more into this company besides their website. And on some of their marketing material I did find Jiwon Kang as their CEO. Seems that he has been the CEO since January 2021. Kang is also the owner of Super Acid.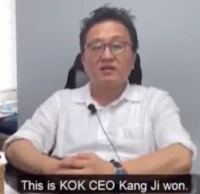 So what is Super Acid? SuperAcid is a company that failed trying to be successful in the crypto market. This happened back in 2018. They used the Davinci Coin which they dumped on public exchanges in late 2019. Besides a brief pump and dump, nothing much happened with it. Kang was also the CEO or another failed company called WeredSoft.
KOK Play Review – Products
So KOK Play does not offer any retail products or services. The only think you can do is to promote their affiliate membership itself by becoming one of their affiliates.
KOK Play Review – Their Comp Plan
How this will work is that their affiliates invest a minimum of $100 or more in these so called KOK tokens. After this, they will park the tokens with KOK Play and they promise you a monty return. They will pay you this daily apparently:
You put $100 to $1499 in KOK tokens and then get 3% a month
Put $1500 to $9999 in KOK tokens and then get 5% a month
You put $10,000 or more in KOK tokens and then get 7% a month
They will then pay you returns until reaching 200%. After this, new investments must continue to earn. When looking at their MLM side or thing, they will pay you when you recruit new people. But keep in mind that they will pay you with this KOK tokens. And you can only withdraw them using their app exchange.
KOK Play Review- Ranking Affiliates
In this company you will find 9 ranks for affiliates. This is pretty much how it works:
Affiliate – Join and invest in KOK tokens
One Star – recruit five affiliates
Two Star – personally recruit five 1 Stars
Three Star – personally recruit ten affiliates (three must be 2 Stars) and produce $30,000 in total downline investment volume
Four Star – personally recruit three 3 Stars
Five Star – personally recruit three 4 Stars
Six Star – personally recruit three 5 Stars
Seven Star – personally recruit three 6 Stars
Eight Star – personally recruit three 7 Stars
Keep in mind that new affiliates have to invest and have active earnings so that it counts towards your ranking.
Commissions Through Referrals
So this company will pay you by using a unilevel structure comp plan. This graphic below explains it very well. Like your typical pyramid structure:
When looking at their options on their website, they don't seem to have limits on how many levels they will pay the referral commissions. They do have some perks and bonuses as well. You will be able to join this company for free. But in order to earn, you need to put in a minimum of $300 in the KOK tokens. Keep in mind that once you reach the 200%, you need to re-invest to continue earning.
Final Thoughts On KOK
So what do you guys think, is this legit or just another scam? Well, let's look into it. Seems to me that they are your typical MLM crypto scam. If we look at the KOK token, it is an ERC-20 token on the ethereum blockchain. Keep in mind that these tokens can be set up in just a few minutes with almost no cost to it.
But here is the problem, since they are an MLM and they offer securities, they need to register with the proper financial regulators. In this case in South Korea and also any other countries they are soliciting investment in. Based on some Youtube videos, I see that they are operating in the US, China, Vietnam and Japan.
So this company doesn't provide any proof of their registration. In fact, MLMs are straight banned in China. So we know they are operating illegally already. Do not invest here, you have been warned.
Learn How To Trade Crypto
Don't get me wrong… There is nothing wrong with investing in Crypto, in fact I hold a good amount of crypto tokens. The problem is really with these types of scams. There is a huge difference from buying a legit coin than investing in these fake companies. If you want to learn how to trade crypto, I recommend trying the Crypto Ultimatum training course for a super affordable price. Try it out. If you don't like if for some reason you can get your money back. But I doubt you will. It will show you how to do it the right way. By the way, HERE is the latest Ponzi I reviewed in case you run into it!
Now before you go…
If you really want to learn how to build a business online the legit way, partner with us by clicking the banner below:
We will walk you through to get set it up correctly, and we will help you make your first sale. On top of that, you will get a ONE on ONE mentor to make sure you are setting up your business for massive success.
Follow Me On Social Media Below:
Subscribe To My Youtube Channel Here
See you at the top!
Comments |0|